The Ultimate Guide to Training Retail Employees
Effectively Train, Motivate and Measure Results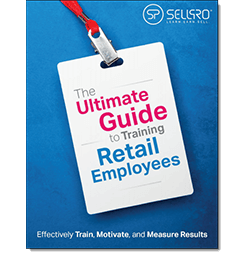 Free Guide: The Ultimate Guide to Training Retail Employees
A single negative experience causes 51% of customers never to do business with that company again.
The right training inspires your retail employees to provide a better customer experience, become passionate about the products they sell, and prepares them to rally behind campaigns, initiatives and product launches.

Help your employees better serve customers, adapt to new procedures, and get up to speed on new products and systems.

In this guide you'll explore:
Why your front line matters when creating customer experiences
The most effective training methods and tools
Measuring results and reporting ROI
And much more!
Learn how to train and motivate store employees to drive sales consistently!